Compression Onesie
Our compression onesie is essential, gentle compression that provides postural control and core support for our little ones!
"This product is great!  It not only stays in place, it also gives consistent compression no matter who puts it on the child. I've found families to be more consistent with using this product than with the belly binder wraps, which I've used in the past. Caregivers can forget about it once it's on."
"I love this Onesie! It is a simple idea that this mom (and professional seamstress) came up with to solve the problem of keeping the abdominal binder on her wiggly baby. My families are so much more compliant with using this binder."  
So Glad You are Here
 Welcome to Fearfully and Wonderfully Made. We are very excited to introduce the Compression Onesie! Our precious little ones with decreased muscle tone and other continuing needs will benefit daily with the Compression Onesie.
Better postural control, gentle support, and an overall secure feeling of a constant hug are just a few of the daily benefits your child will receive with the Compression Onesie.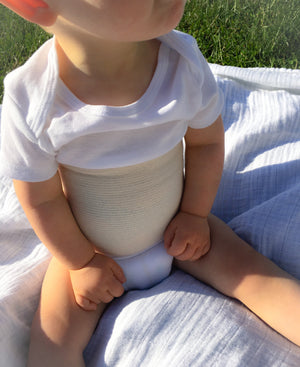 Infant Compression Onesie Newborn - 9M
Sale price Price $28.99 Regular price Unit price / per